Parish History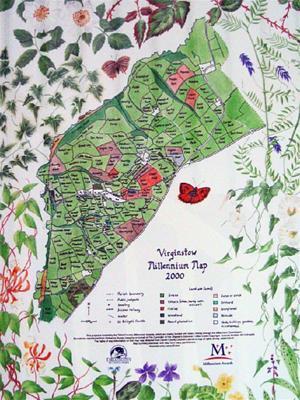 The information published here is taken from a leaflet that was produced in 2003 by some residents ( a big thank you to all) as part of a project funded by the Tarka Country Millennium Awards programme, using Lottery money through the Milleniun Commission. The leaflet entitiled "Virginstow Devon Past & Present" was distributed to all Parish residents. A Millenium Map of Virginstow showing field names and land use was also produced as part of the project. Some of the information regarding shops/pubs etc. have changed over the past two decades.
Virginstow is a small rural parish in West Devon towards the border with Cornwall, and lies near the southern end of Torridge District Council area.
In the first great survey of the country in 1086 the Domesday-book refers to 'Hirgens tor'. Perhaps the name was later changed to be more in keeping with the Christian idea. Much less land was under cultivation then and each farm was isolated. Tillislow was described as 'a marsh belonging to one Saxon called Tulla' and Bradaford (meaning wide ford) belonged to a Saxon called Sawin. Both farms became property of a Norman called Nigel. Tillislow comprised 19 acres, being 10 acres woodland, 7 acres meadow and 2 acres pasture. On this were kept 28 sheep and 8 head of cattle. There were 3 domestic servants and 1 serf and Tillislow was valued at 10 shillings (50p). Bradaford comprised 8 acres of meadow, 1 acre pasture and 10 acres woodland, employed 1 labourer and was valued at 2 shillings and sixpence (12.5p). There is no mention of any stock.
Nigel's oldest daughter inherited the land and on her marriage to Wido de Bocklanda it became his. Within 20 years the land belonged to the king. Either there was no living relative to inherit or possibly Wido committed some kind of crime. During this time a third farm was created between Tillislow and Bradaford which was named Middlecott.
In 1241 Richard de Veteri Ponte owned Tillislow, Bradaford, Middlecott and Broadwood. By 1273 theyall belonged to Sir John Widger, hence Broadwoodwidger, and on his death passed to his son Henry, then aged 16. Henry only survived Sir John by 6 years, so the property passed to his mother Gudredda, who married Henry de la Pomeroy. Broadwood then became the property of Richard de Stapledon who gave it to Frithelstock Priory, and the Pomeroys continued to own Virginstow. By 1281 another farm had come into being, Crows Nest, although it was called CreweNeste (Stepping Stones). In 1334 Scotland Farm makes its appearance as Skotland, being a land subject to a tax or skot.
In 1808, Charles Vancouver's 'General View of the Agriculture in the County of Devon' describes Virginstow (the spelling varies to this day) as having 19 inhabited houses with a total population, including children, of 101. All 52 males were occupied in agriculture. In this general area of north-west Devon he states that 'Barley bread and potatoes compose a large part of the food of these people. Some wheat broth seasoned with a small piece of meat and pot herbs, form, with pies of bacon and potatoes, the chief variety in the mode of their subsistence'.
The Tithe Map and apportionments of 1839, drawn up by Jonathan Kittow of North Petherwin, estimate the whole parish as 800 acres, being 300 arable, 30 meadow or pasture, 50 woodland and 400 of commonland consisting of large tracts of furze or morassy pasture. Glebeland was c.40 acres. The arable land was down to wheat, barley and oats. Each field is named, the use described and the owner and occupier listed. A few of the field names have persisted to the present day, possibly indicating ownership by the snme family or a particularly noteworthy feature of the field. The woodland was mostly coppiced, whereas today most of it is unmanaged.
In 1857 Billings Directory lists Henry Blagrove Esq of Lifton Park as Lord of the Manor. Subsequently a Mrs Hawkes is recorded as Lady of the Manor and principal landowner.
By the early 1900s Virginstow had a population of 115, a village shop, a butcher and a public house called the Hare and Hounds. The shops and public house have long gone but the farms remain, although fewer than half of households have someone working in agriculture. Residents work within and outside the parish, some in local towns, others as far away as London and Truro. There are 93 adults on the electoral register.
The catchment school for primary children, aged 4-11, is Broadwoodwidger school at Ivyhouse Cross, although some children from the parish attend St Giles-on­the-Heath school (and in the past, Ashwater) and others are home-educated. Most students aged 11-16 attend schools in Holsworthy or Launceston.
The nearest shops are in St Giles and Ashwater, each having a shop and Post Office combined. These villages each have a public house. Virginstow has a post­box with two collections a day and there is a telephone box at Dubbs Cross. Deliveries include milk (3 times a week), butcher (once a week), baker with groceries (once a week), newspapers (daily), mail (daily) and a mobile library visits fortnightly. No buses come to the village but a 'Fare Car' scheme has recently started, a subsidised taxi service which runs to a timetable between Launceston and Holsworthy and takes people to and from their houses for the cost of a bus fare, bookable one day in advance. People with mobility problems can access the 'Ring and Ride' transport scheme. Most households have cars.